Visit Gifts With Love to get all of your Christian gifts that you are searching for! We have many different Christian gifts for Women, and for Baptism. Our Christian gift store is endless with possibilities! Take a further look into gifts that we have for Baptism.
If you are looking to get someone special in your life a Baptism gift that they can cherish, look into our Baptism Wall Cross For A Girl or For A Boy. We have both sexes available! These 6.5' Baptism crosses are made of a mix of resin, stone, and glass. Carved in this precious cross is "Baptized in Christ." As well as carvings, there are pink bows on the cross. If you are looking for a boy, the bows are blue. When your purchase this great gift from Gifts With Love, your shipment will include a gift box.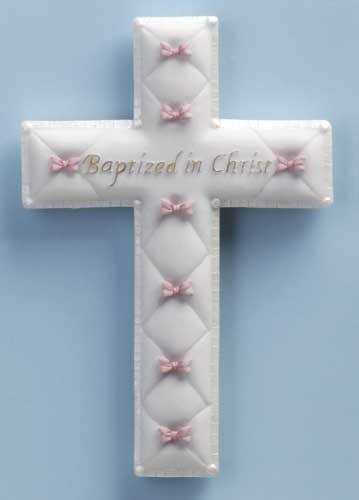 Another great gift for Baptism is the Baptismal Frame for a Boy or Girl. This memorable frame is also made of out the resin, stone , glass mix, is 6" tall and 4.25" wide. A 3.5" x 5" photo can fit perfectly in the Baptism frame. When ordering this frame make sure you choose either a boy or girl frame. The girl frame has a little girl praying on the bottom right hand corner, and the boy is blue and is located on the bottom left hand side of the frame also praying. The scripture that is on this frame speaks "God watch over me tonight, please send your blessings from above, protect me 'til the morning light, and hold me in your arms with love." View this Baptism gift here.